Naturali Food is now taking care of Galbusera business in Poland, the UK, Ukraine and Russian Federation. Galbusera is the biggest Italian producer of healthy sweet and confectionary products; we consider this cooperation the prize for many years of very hard work.
Founded in 1938 in Northern Italy (Morbegno), still family owned to this day. This is the key data

:

– 700+ employees

– 250M € turnover

– 9 bakery production lines

Three business lines:

Galbusera: Leading Italian brand in the "better for you" bakery category , with strong focus on healthy recipes

Tre Marie : historic Milanese brand acquired in January 2014, to cover the gourmet/ indulgence segment

Mavery : Leader in Italian Private Label supply of Crackers and Cookies. The production is structured on two lines, one of which is fully automated in order to ensure greater production and very fast deliveries. (Over 20 brands – 270+ active skus – 27k+ Tons production)
Galbusera main production plant based in Cosio Valtellino (SO)                 
Galbusera covers a vast range of healthy products such as: rice based, no added sugar, gluten free, whole grain, low fat, organic, salt snacks, hi-fiber.
Today the company is widely known not only in Italy (where it covers about the 40% of PL market within the wafer, cracker and biscuits segments) but also far beyond its borders. The ability to create a competitive private label and apply any image to the products make it attractive for sale in many countries.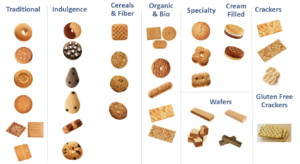 Since 1896 the Pasticceria Tre Marie based in Milan is the absolute market leader in high quality desserts and celebration cakes. The product range has increased year after year, respecting the original recipes and Tre Marie has become one of the indispensable symbols of the Italian patisserie.