After 3 years of market research on the field we happy to introduce you to Airone which specialises in 100% fillet yellowfin tuna and other canned fish.
Altomar represents the highest quality in the production of canned tuna; the fish is all hand-worked, made exclusively with olive oil and with specimens of the finest yellowfin that do not exceed 15 kg in weight. The tuna, carefully selected one by one, is characterised with the light pink color and its softness as well as by the delicacy of it flavour capable of satisfying the most refined palates.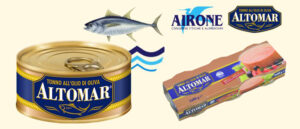 Airone is specialised in canned fish and other food products since 1994. The production plant is located in Abidjan, the largest port in the Eastern Central Atlantic, a zero-mile plant for processing tuna following the highest international quality standards.
Airone processes tuna using Italian technologies and recipes, flanked by local work managed with international criteria. The ownership, management and warehouses are located in Italy.
100 MILLION
cans of tuna, jars and bags produced every year
23.000 TONNES
 of produced tuna a year
1.000 PEOPLE
permanently employed in Abidjan
22.000 SQM
production plant in the Ivory Coast
10.000  SQM
warehouse and cold stores in the Ivory Coast
18.000 SQM
warehouse in Reggio Emilia